Perquisite:
An iPhone/iPod/iPad Jailbroken (not talking about unlocked, just Jailbroken. All you need is cydia)

A composite cable. Costs around Rs. 1500 or even cheap on eBay/Amazon .

Off-course a TV.

iTunes installed on your mac or pc
Connect  your phone to your TV. In TV choose source as component. To test everything in place just play a normal video on phone and see if you are able to view on tv. If yes go to next step or else fix this issue first. For issue check that you have added the composite cable matching to the right color ports.
Open recently installed AirServer on phone while you are still connected to TV. It should show the AirServer connected as shown below. Excuse me please for the bad image quality.

If you see this half war is won already. Basically the idea is that the idevice works as the AirPlay receiver.
Now open itunes and bottom right you should be able to choose the idevice. Just select it and play a movie in itune.
One drawback. For every movie you see you need to convert it to itune format.. :D Fear not! Here is a software to stream almost any format of movie over your just now created DIY. Its called
AirFlick
. Just install it in your mac and drag and drop your videos to stream.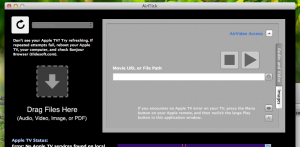 Cheers!