Ever wondered when Sachin came first on news? Or just thought what was the newspapers printing before our independence? Or ever wondered what happened during the start of time?
Ok if you have not you can think now. Google has this unique service called Google News Archive which digitalized lots of old news papers. Check the screenshot below.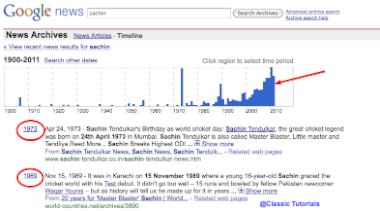 URL:
Google News Archive
We work closely with newspaper partners on a number of initiatives, and

as part of the Google News Archives digitization program we

collaborated to make older newspapers accessible and searchable online,

-Google
But the bad news is they have recently stopped the archiving service but still there are already lot of information available in there databases.
We don't plan to introduce any further features or functionality to the

Google News Archives, and we are no longer accepting new microfilm or

digital files for processing.

-Google