Ok so you installed some software from some online website and now every time you do a serach in firefox it changes from default google search to Babylon search. Very creepy.. I know...
Updated:As told by Altani Fox in comment you need to install "Spybot - Search & Destroy" first and then once it cleans up the system then continue with the below tutorial.Refer the screenshot below.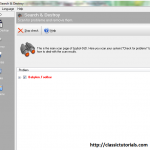 Here is what you need to do next once the above steps are done and you have restarted your system: 1) Open firefox and type "
about:config
" in the URL. Click on "
I will be careful...
" button. 2) Now on the next page in the search bar type "
babylon
" and press enter. 3) Right click on each of the entry and just select "reset" from the option. Thats it.

Restart your browser and thats it. Cheers!